Auto Window Tinting In Los Angeles, CA
JT Window Tinting provides car window tinting as well as window tinting for just about any vehicle across Southern California.
Get a Free Quote for tinting of your car windows >>
We also offer: Residential Window Tinting | Commercial Window Tinting
BENEFITS OF CAR WINDOW TINTING
Car window tinting creates a cool, custom look for your vehicle, but not many people know that there are many other functional benefits of window tinting your car.
See the following reasons why car window tinting is a valued addition to any vehicle:
UV Blocking
Car window tinting blocks up to 99% of the sun's harmful UV rays. If you're in the car for extended periods, car window tinting is important for protecting you and loved ones from cancer-causing UV rays. UV protection comes in various grades, and you don't need to have windows significantly darkened to block UV.
Heat Control
In addition to UV, the sun also tends to create uncomfortable heat inside your car. Since car window tinting also blocks up to 71% of solar energy, you can easily stay comfortable and prevent expensive overuse of the AC.
WE OFFER SEVERAL DIFFERENT BRANDS OF WINDOW TINTING
SunTek Window Film
All SunTek Window Films are exclusively manufactured in the United States at teir world-class facility in Martinsville, Virginia. At this site, they have invested in a broad range of production and manufacturing equipment including precision laminating and coating machinery, and a state-of-the-art dyed film line. Additionally, their technical team of engineers and chemists has developed a wide range of innovative and proprietary technology that is exclusively available to SunTek customers.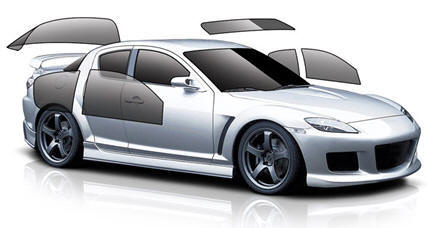 Madico Window Film
Madico is a thriving organization with a rich history of invention, innovation, and imagination. For well over 100 years they've met the ever-changing needs of their customers by leveraging the skills needed to adapt their product portfolios. While their earliest portfolios were characterized by gift wrap and ribbon products, Madico's current line features highly engineered, multilayer films for Energy, Automotive, Safety, Security, and Architectural applications.
They thrive on leading. Throughout the years they have pioneered countless new film products. Such a record is only possible through the long-term commitment to research and development. Their strong connections to our market enable us to guide development by anticipating emerging market needs. Today, Madico is proud to still be recognized as a technology leader in our chosen field.
Madico's long history of success is grounded in staying true to their beliefs, beliefs that guide the diverse talents and visionary efforts of their people.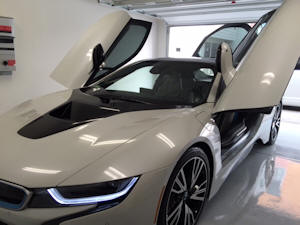 American Standard Window Film
Leading the Industry in Quality Products and Eco-Friendly Manufacturing! Erickson International is the most energy-efficient manufacturer in operation today. Their Las Vegas facility was several years in the making, following extensive research and development. It was built from the ground up, with custom machines, state-of-the-science technology and proprietary processes that increase production efficiency, accuracy and product quality. Spanning more than an acre, their facility leads the industry in green thinking, with near- zero landfill waste to respect and protect the environment.
Their proprietary coating process is the most advanced in the industry. Among the advantages are decreased handling, which minimizes the possibility for error, and increased cleanliness, which helps ensure the highest quality film possible. The process also achieves unmatched levels of efficiency, which translates into faster turnaround and greater cost-effectiveness.